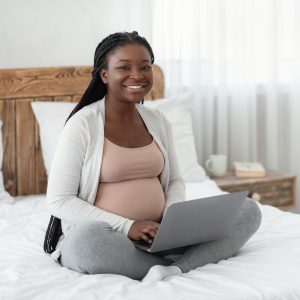 Deciding what to do about your unplanned pregnancy is hard. You have options, but none of them are easy. You're not wanting to abort, but parenting seems out of the question right now. We're glad you're looking at the possibility of closed adoption. 
Choosing Adoption
Adoption is the legal process of transferring the rights and responsibilities of being a parent from a birth couple to an adoptive couple. Women choose adoption for their children for many different reasons. Maybe they feel too young to parent, they're not in a stable relationship, or they already have other children they're responsible for.
No matter your reason for considering adoption, you're thinking about your child first. It's a loving, brave, and difficult decision to make. You need as much information and support as possible to know if choosing adoption is right for you and your child.
Making An Adoption Plan
There are three main adoption plans: open, closed, and semi-open. There isn't a right plan or a wrong plan. As the expectant or birth mom, you choose the plan that's best for you, your child, and the future of both of you. 
It's important to choose a reputable adoption agency or specialist when making your adoption plan. No matter who you work with, all of their services should be completely free for you. Ask the agency to explain their process, your legal rights, and what you should expect. 
Choosing Closed Adoption
If you would like to stay completely anonymous in the process, you would choose a closed adoption, also known as a confidential adoption. With this plan, your adoption coordinator would look for potential adoptive families also interested in a closed adoption. 
No identifying information is shared between the birth family and the adoptive family in a closed adoption. The entire process remains confidential. A record of the biological mother on the original birth certificate is kept sealed.
Pros of a Closed Adoption
For some women, staying anonymous is more comforting than an open or semi-open adoption plan. Here are some of the pros:
Emotional Closure. If you feel ongoing contact will not provide the closure you're wanting, choosing a closed adoption is best.

Privacy. There are many reasons to keep your pregnancy and subsequent adoption plan confidential. If you're concerned for the child's safety due to a toxic or dangerous relationship, you don't want to have to explain your decision to others, or the birth of your child might be due to a sexual assault, keeping the adoption private might be a good choice.

No Need to Build Relationships. Life gets busy and keeping up relationships with others takes time and work. With a closed adoption, you won't have the guilt because you didn't maintain communication.
Cons of a Closed Adoption
At one time, all adoptions were closed for a birth mother and the adoptive family. Here are some of the cons:
No Reassurance. Without seeing the outcome of your choice, you may spend time worrying that your child isn't with the right family.

No Communication. By not having at least some contact with the adoptive family, you don't have an opportunity to build a relationship with your child.

Lack of Information. Not only is it important for you to find reassurance, but it can also be important for your child to have the ability to ask questions. Whether it's additional medical or family history, or mere curiosity, your child won't have a chance to get answers.
Is a Closed Adoption Plan Right For You?
In order to make a confident decision about the adoption plan that's best, you need to trust those you're working with. Contact an adoption counselor at A Gift of Hope Adoptions. You and your child are important to us and we want what's best for both of you. Schedule a no-cost consultation and let's chat about adoption.