Testimonials
It was our privilege to serve these wonderful families in adoption-related capacities. These are a few of the happy clients we've had the privilege to work with. (All statements and images are used with permission, with first names only to protect privacy)
Bill, Cindy, Liam & Sean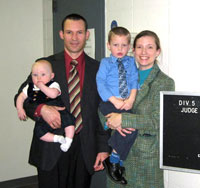 We adopted both of our sons through A Gift of Hope Adoptions.  They helped us every step of the way and answered all the questions we had, and we had a lot!  We would not be where we are today, with two busy boys in our family, if it wasn't for A Gift of Hope.  They also helped our sons' birthmothers through the process too and treated them with respect and dignity.  We thank them for their patience, help, and understanding, along with the roomful of toy cars and trains that we dreamed of!
Jamie, Deborah, and Isabel
How do you begin to thank the people that ultimately made all your dreams come true? The thing we loved most about working with Dewey and Elizabeth is they always kept their cool and understood that adopting a child is a very emotionally charged venture. They treated us with respect and compassion and never let us forget that our baby was out there… That it was only a matter of time before they came to us. When it was right, we would know. And you know what, they were right! We can't imagine our life without Isabel. She is the world to us and is truly our daughter in every sense of the word. Most days, we are still pinching ourselves — we cannot believe how fortunate we are. When we are ready to give Isabel a baby brother, there is no question that we will entrust A Gift of Hope Adoptions with that mission. You won't believe how big your heart will grow when you hold your baby for the first time. They truly live up to their name.
Jon, Devyn, and Kaeden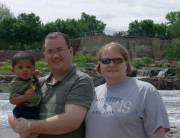 We decided to adopt trans-racially mainly because of the great need for families willing to accept any race. We have never seen color being a factor in our son being a part of our family.  We never think about being a transracial family until we are in public and get the occasional stare, but we have never had anybody disrespect us.  He is a part of our family now and will be forever, no matter what race he is! Adopting transracially (and working with A Gift of Hope Adoptions) is one of the best decisions that we have ever made!! We have already been thinking about adopting a sibling for our little boy, and we are definitely going to adopt trans-racially again.
David, Hallie, & Ellie
David and I could not have been happier with Elizabeth and Dewey. They were very professional yet very personable. From the minute we talked to them on the phone to meeting them, the entire adoption process was perfect. They answered all our questions and were there for us every step of the way. We would not have our wonderful daughter Ellie today if it weren't for them. They both were very knowledgeable about everything and seriously walked us thru the entire process. They were in constant contact with us and truly made our experience with adoption incredible. We could not recommend them any higher. They went above and beyond!!