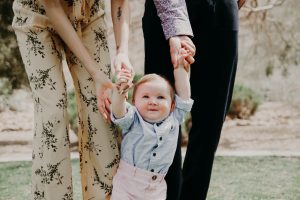 Whether you are currently expecting or have already had your baby, it's never too late to consider making an adoption plan. If you financially and emotionally aren't ready to parent, choosing to place your child for adoption could be the best solution.
Here are seven reasons why adoption might be the right choice for you. 
Reason #1  Age
Although it varies from person to person, the average age to start your menstrual cycle is 12. Most women can become pregnant well into their 40s or even early 50s. 
There is no ideal age to be pregnant, but it is more difficult the younger or older you are. If you are at one end of the spectrum or the other, placing your baby for adoption could be the answer.
Reason #2  Relationships
Often, when a woman considers adoption for her child, the birth father is no longer in the picture. Perhaps he hasn't been around for a while, or when you shared the news about your pregnancy, he may have decided to leave. You may also be in an unsafe or unhealthy relationship.
Many women wish to give their child a stable, two-parent home life. Selecting a married couple settled in a home with a regular income gives your child a firm foundation. You choose the environment you want for them.
Reason #3  Health
Being a single mom is not only financially tricky but also emotionally and physically challenging. Parenting requires a great deal of patience and determination. It can be difficult to care for your baby if you struggle with your physical or mental health. 
You or those close to you can be dealing with an addiction which means you cannot give your child the attention they need. You can concentrate on restoring your mental and physical health by placing them for adoption.
Reason #4  Time
When you're pregnant, family and friends often say they will be there to help you. But will they? Those around you want to be helpful, but everyone's lives are busy. Carefully consider the true dedication of others.
How will you care for your baby while you work or attend classes? Do you have the finances to pay for childcare? Is the person offering to watch your baby reliable? 
Making an adoption plan ensures those who care for your child are dedicated and eager to raise your baby.
Reason #5  Finances
Let's face it, raising children today is expensive. You need a steady income, solid medical care for you and your child, and a safe place to live.
Without a solid financial support network, you can struggle. By selecting the family that raises your child, you know they will be financially secure and have opportunities you may not have been able to give your child.
Reason #6  Other Children
Some women choose to place a child for adoption because they have other children they are already raising. Expenses, time, and energy can run out after a while. Adoption can be the solution if you have other kids to care for and wonder how you will provide for another.
By choosing adoption, you control your family and how many children you raise.
Reason #7 Your Future
You have plans for your future, and an unexpected pregnancy was not part of those. Motherhood makes it more challenging to finish your education or start a career. By choosing adoption, you can proceed with your plans.
With open or semi-open adoption, you can build a relationship with your child and their adoptive family but not have the day-to-day responsibility of motherhood.
Is Adoption Right For You?
Every situation is unique. Your reasons for considering adoption are not the same as another's. 
Let's talk about you and your future. Is adoption part of your story? We can give you the emotional and physical support you need to decide. 
Contact us, and let's chat about what adoption would look like for you.