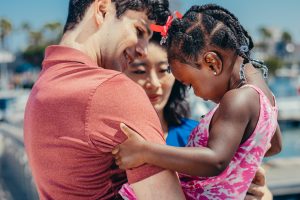 Today, almost 90 to 95% of adoptions are either open or semi-open. Transparency, communication, and the willingness to blend biological parents with adoptive parents make the adoption process smoother for everyone. An open adoption isn't co-parenting, but it allows both sides to give the child they share an excellent foundation.
How Does Open Adoption Work?
As an expectant woman or birth mother prepares her adoption plan, she decides how much communication she wants with her chosen adoptive family and her child after finalization. She selects a fully open plan if she wants to exchange identifying information such as full names, addresses, phone numbers, etc.
If she's interested in communication but wants to remain fairly anonymous, she should choose a semi-open or mediated adoption plan. Her adoption agency or adoption specialist handles all contact between parties.
How Do I Set Up an Open Adoption?
As you work with your adoption coordinator, you review the bios of potential adoptive couples. A bio helps you get to know the couple and usually includes the following information:
A letter to the birth mother

Photos or a short video of the couple, their home, pets, community, etc.

Explanation of why they wish to adopt

Information about hobbies, family, work, religion, traditions, etc.

What type of relationship they're hoping to have with you
The most important part of a prospective adoptive couple's bio is showing their personality. They must communicate with you honestly.
Once a couple is selected, your adoption coordinator can set up a meeting so you can decide if they are the best family for your child. If both parties agree, you have a "match" and move forward with building a relationship.
What Are the Benefits of Open Adoption?
According to a government study, open adoption benefits the birth mother and her child. For the birth mother, you may feel the following:
Greater control in choosing the adoptive parents

Comfort in knowing your child is safe and loved 

Support in dealing with your grief and loss

Building a personal relationship with your child and their adoptive parents

Greater satisfaction with the adoption process
Your child benefits from open adoption because:
They have a connection to their birth family and ancestry

No feelings of secrecy or shame

Increased self-worth and identity

A sense of belonging

Better understanding of the reason for placement

Answers the "why's" like "Why do I look different from you?"
Do You Have More Questions?
Adoption is both difficult and beautiful. There are a lot of questions to ask. Please consider contacting A Gift of Hope Adoptions to get the answers you need. Fill out our confidential online form and let us know how we can assist you.
It costs nothing to talk, and you do not have to commit to adoption to get information. We're here to assist you without judgment or pressure. You can also take a look at some of our waiting families. Give us a call soon!
This blog is for informational purposes only. This is not legal or medical advice. While we try our best to reflect current laws with accuracy at the time of writing, please note the laws can change over time.