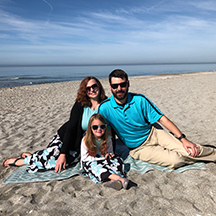 We promise, if you choose us to raise your child, they will immediately be a part of our family, just like all the other members. We are big believers that family is what you make it. We have a lot of
"chosen" family that are not related by blood, but they are without a doubt our family. We want to assure you that your child will be loved just as much as we love our daughter, Luna (and we promise that's a lot). There will never be any different treatment of a biological child or an adoptive child in our home. Every child will get the love and care they need and deserve to
become happy, healthy, successful adults.
View Profile