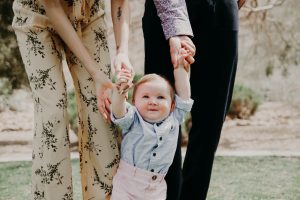 No matter what state you live in, all birth mothers have certain guaranteed rights, such as choosing what's best for your child. But, in other matters, adoption laws do vary by state. Working with an adoption agency or specialist who understands your state's rights is vital.
Do You Understand Adoption Terms?
The adoption process can seem overwhelming if you don't understand some terms. The following is a short list of adoption terms that may help:
Expectant Mother – a woman who is currently pregnant

Birth Mother or Birth Parent – the biological mother who has given birth and is choosing adoption

Potential Birth Mother – the biological mother who has given birth and considering adoption

Birth Parents – both the biological mother and father considering adoption

Adoptee – a child who is adopted

Adoption – a legal and permanent decision terminating the parental rights and responsibilities of the birth parents and giving them to the adoptive parents

Adoption Plans – the three adoption plans a birth mother can choose from are open, semi-open, and closed

Adoption Decree -the legal document issued by the courts during finalization, which formalizes the relationship between the adoptee and adoptive parents and is legally binding

Finalization – the adoptee becomes the legal child of the adoptive parents

Post-Adoption Contact Agreement – Agreement between birth parents and adoptive families that formalize the type and frequency of contact after adoptive placement and throughout the adoptee's childhood
What Are the Rights of All Birth Mothers?
Regardless of the state, all birth mothers have certain rights. The following is a list of the rights every birth parent should have:
Choose what is best for your child, whether that is adoption or remaining with the biological family

Receive proper prenatal medical care at no cost to you

Select the perfect family for your child

Know that the adoptive parents are legally qualified by your state to adopt

Meet the potential adoptive couple

Remain anonymous if you desire

Voluntarily provide written consent of your desire to place your child for adoption unless the courts previously terminated your rights

Receive a full explanation of the adoption process and how it pertains to your situation

Be represented by an attorney and receive counseling at no cost to you
What Are the Rights of Birth Mothers by State?
Several specific adoption issues vary from state to state and can regularly change. When considering adoption, be aware of the differences and ask how they apply in your state. The following rights are different according to state laws:
The minimum amount of time required after a birth mother has given birth before she can sign the consent to place for adoption

If a birth mother changes her mind after signing the papers, some states allow her to revoke the consent ("reclaim"), but there are different time frames

Most states allow birth mothers to receive specific assistance with expenses such as rent, medical fees, groceries, transportation, etc.

Post-adoption contact agreements range from a mutual understanding to a formal contract, and some states make the agreement enforceable

The hospital arrangements between the birth mother and adoptive parents vary even within a state
Are You Curious About Missouri's Adoption Laws?
Placing your child for adoption is one of the most significant decisions you will ever make, and we want you to have as much information as possible.
If you have questions about a birth mother's rights in the state of Missouri, please give us a call. We'll be happy to provide information for Missouri, as well as other states' adoption laws. 
Fill out our confidential online contact form or call 1-888-564-HOPE.
This blog is for informational purposes only. This is not legal or medical advice. While we try our best to reflect current laws with accuracy at the time of writing, please note the laws can change over time.