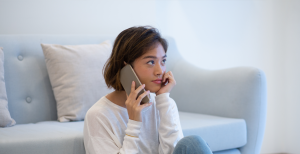 Phrases like "giving my baby away" and "giving up my baby" are part of the hurtful misunderstandings of adoption. A woman who chooses adoption for her child never "gives away" or "gives up." Her adoption plan means she is taking charge of her future and her child's future.
Why Do People Say "Giving Away"?
Before, the stigma of being an unwed mother forced women to "give away" their babies. Often, a woman had no idea who had adopted her baby or where her baby went. She worried if her child was loved and safe. The child wondered about their heritage and medical history. 
In years past, an adopted child rarely had the opportunity to meet their biological parents. They spent a lifetime wondering about each other, making adoption a painful experience.
What Does It Mean To Make An Adoption Plan?
The process of adoption has changed tremendously over the years. What used to be hush-hush is now applauded. Birth mothers choose adoption to give their children a loving two-parent home and more opportunities in life. Adoption gives adoptive parents who can't have children the chance to love and care for a little one of their own.
Today, when a birth mother decides adoption is the best solution for her unexpected pregnancy, she makes an adoption plan. Whenever anyone makes plans, they map them out carefully; the same is true of adoption.
When you place your child for adoption, you choose their environment, the adoptive parents, and how much communication you wish to have in the future. You recognize you cannot give your child what they need. 
Out of love, you carefully select other parents who can provide the love, safety, financial security, and future you cannot. You are planning the best life for your child.
What Are The Plans?
There are three types of adoption plans: open, semi-open, and closed. Almost 70% of adoptions today are open, and only 5% are closed. You choose the right plan for you.
Open Adoption Plan
In an open adoption, you are the one to choose the adoptive parents for your child. You view bios of potential couples until you find the perfect match. Once matched, you and the adoptive parents exchange full names, addresses, and phone numbers. Together, you determine how much contact you wish to have with one another. 
Semi-Open Adoption Plan
If you wish to have more privacy, choose a semi-open plan. You still select the adoptive parents but exchange first names only. You have contact with each other through a third party, such as your adoption agency or lawyer. 
Closed Adoption Plan
If you desire total anonymity, select a closed plan. With this plan, your adoption agency or lawyer chooses the adoptive parents for you. The two parties exchange no information, and the courts seal the original birth certificate. 
How We Can Help You
Contact us if you want to learn more about making an adoption plan. We can often assist you with pregnancy-related expenses and help you find other resources. 
Adoption is courageous, selfless, and challenging all at the same time. You are never "giving away" or "giving up." You are moving forward and taking charge.
Call us at 1-888-564-HOPE or chat with us online today.