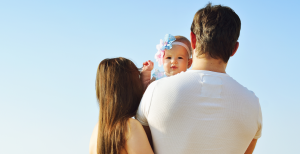 Adoption laws vary from state to state, and the actual procedure can vary from county to county. Even though adoption laws are similar, that doesn't make them simpler. 
You need to work with an agency who can explain the process for adoption. Select a reputable agency that won't charge you anything for their services. Choose A Gift Of Hope Adoptions in Columbia, MO.
The Adoption Process For Birth Parents
When considering adoption for your child, you want to research the adoption agency you're considering. At A Gift Of Hope, our counselors spend time making sure you thoroughly understand the adoption process, Missouri laws, and your rights. Contacting us does not mean you're committing to adoption.
Choosing Your Adoption Plan
As the birth mother, you choose the adoption plan best for you. If the birth father is involved, you work together to select the plan most comfortable for both of you.
Talk with the counselor to determine how much involvement you wish to have with the adoptive family and your child after placement, then select your plan. 
An open adoption plan means you want to have direct contact with the family. You both share identifiable information and begin communicating as soon as you are ready. 
If you do not wish to have contact with the adoptive family or your child, choose a closed adoption plan. A semi-open plan is in between the other two. You have contact, but correspondence goes through your adoption specialist at A Gift Of Hope Adoptions.
Placing Your Child
It doesn't matter if you've already given birth, or you are still pregnant, it is never too late to make an adoption plan. There are many potential adoptive parents who would love to adopt your child.
If you've chosen an open adoption (which most women do today), you will review bios of potential adoptive parents and pick the couple that most resembles what you want for your child. 
By selecting a closed adoption plan, your agency specialist chooses a family for you.
In Missouri, the written consent of the birth father to place his child for adoption can take place at any time during the process. If you are no longer in a relationship with the father or do not know which man is the father, it is usually still possible to proceed with the adoption. 
In Missouri, a birth mother does not sign a consent to place her child for adoption until at least 48 hours after the child's birth. This gives her additional time afterward to determine if adoption is still the right choice.
The Process
If you have decided adoption is what you want, in most states you sign a consent form stating you are willing to place your child for adoption.
Before the process is completely finalized for the new family, in Missouri the child must live with the potential adoptive couple for at least six months. Other states may have different time periods, although six months is a pretty common time frame. At the end of that period, the family appears before a judge who reviews the adoption and signs off on the adoption. It is extremely rare to not finalize an adoption.  
Do You Have Questions?
Because every situation is unique, your adoption experience will be different for you. We imagine you have many questions about the process, the emotional and physical help you might receive, and the future relationship you can have with your child.
Our adoption specialist is here to answer those questions. It costs nothing to talk with us, and we will never force you to make a commitment. Contact A Gift of Hope Adoptions today. We can discuss if adoption is right for you and your child.