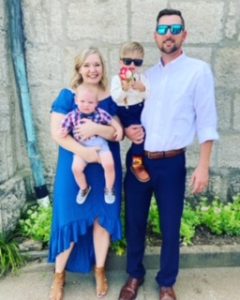 As you consider placing your baby for adoption, follow these first steps. Choose the right adoption agency, begin putting together your adoption plan, and let them help you find the perfect adoptive parents.
Step 1. Choose the Right Adoption Agency for You
The adoption process requires a great deal of trust from everyone involved. When possible, you should meet face-to-face with your adoption coordinator. In-person meetings build confidence and let you share your concerns and ask questions.
The right adoption agency focuses on you. Choose a reputable agency that will work closely with you and provide the services you need. No legitimate agency should charge you a fee to explore their adoption process or make an adoption plan. 
It's okay to call and ask questions. Placing your baby for adoption is a life-altering decision, and you need to know the agency you choose will advocate for you and provide a shoulder to lean on.
Can you contact them easily with questions? Are they available to you 24/7? Will they provide the counseling you need before placing your baby and after placement?  You deserve answers to these questions.
Step 2. Put Together Your Plan
In addition to counseling and referrals to support groups, your adoption agency should provide you with other assistance. Most states allow adoption agencies to provide for pregnancy-related expenses while clients prepare their adoption plans.
You may need help with rent, utilities, or food, depending on your living situation. Proper prenatal care is also critical. A qualified adoption agency should thoroughly explain and walk you through filling out the necessary paperwork for your social and medical history.
As you move forward, your adoption coordinator needs to tell you the necessary legal requirements and connect you to a legal service. You should always know what steps to expect next. 
You also need to be aware that if at any time during this part of the process you change your mind, you can stop the adoption. As the potential birth mother, you are in control.
Step 3. Finding Your Adoptive Family
Choosing the perfect family to raise your child is absolutely crucial to a successful adoption. You need to have confidence the couple you select will safely and lovingly care for your child. If you prefer to leave the decision of choosing a family for your child up to an Agency we are also happy to help choose for you. 
Talk about your desires for your child. Discuss the type of environment you want, if your child should have siblings or pets, what religion you prefer, or a particular heritage. If it's important to you, it should be important to the couple you choose to raise your child.
At A Gift of Hope Adoptions, all of our waiting families submit to background checks, financial and medical questions, and a home study to guarantee their homes are safe. Each family creates a book about their lives complete with pictures and letters. 
You can carefully review these profiles, or we have access to other qualified couples throughout the United States. We are committed to finding the perfect match!
Contact Us With Your Questions
We're sure you have many more questions about the adoption process, finding the right family, and if this is the best decision for you and your baby. Our adoption counselors are happy to talk with you.
Every adoption is unique. We want to hear your story and see how we can help you. Contact us today.